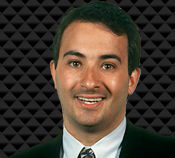 JOSH LEWIN SUPPORTERS THIS WEBSITE NEEDS YOUR HELP!!!! Josh Lewin has taken a job with the Texas Rangers to continue this site I need a Rangers fan to write game reviews so I can upload them on the web.
As you have probably figured out, we have created a web site to celebrate possibly the single greatest baseball personality since Ty Cobb. Even during some of the Tigers recent struggles it has been Josh Lewin who has single-handedly created interest in Detroit Tigers baseball. His ability to constantly set Kirk Gibson up for easy shots at him keeps his millions of fans entertained.
According to Fox Sports web site, Josh Lewin attended Northwestern University, once again reinforcing Josh's sense of humor .
Please help me make this site great. Provide me with you favorite memories of Josh in the guestbook located below. My favorite memory was on April 14, 2000, my first visit to Comerica Park when I was blessed with the honor of Josh Lewin coming over to sign autographs. He listened to our confusion as to how the new Comerica scoreboard could possibly support interleague play. As a side note to the ticketstub Josh signed was also later signed by Kid Rock (who was throwing out the first pitch) making this the single rarest collectible in the world.
This is a post on the guest book from claiming to be Josh Lewin:
Dude- WOW! And here I thought I was the one with no life! Seriously, I'm beyond flattered... embarrassed, actually, is a better word, but thank you so much for taking the time and energy to do this page instead of, for example, solve world hunger. YOU rule! - josh
---
You can leave us some information about yourself, if you like.
I realized I should use this web site to cure world hunger so click here to help save lives.
To Join the Josh Lewin Fan Club just send an e-mail here